I begin our focus on the United States after World War II by putting the students into groups of three and having them list anyone and everything they can name that somehow applies to the years 1945-1965. Then, of course, they share what they've got with the class. It helps in two ways: first, I get to know what they know and what they don't (or at least what they know for purposes of historical association) and, for the first time, the class typically sees that they actually know something about the past. Unlike previous eras, where my students labor to name the presidents or important events or celebrities, they have greater knowledge of this period. And I ask them to consider why that is … and it's not just because it's closer to us in time. They can name a whole bunch of "founding fathers" and important pieces from the American Revolution, and I bet they know more about these decades than they do the 1970s (and it's hard to blame them … any decade that births the Bee-Gees is forgettable in my estimation). It might have something to do with the Baby Boom generation and the emergence of television.
Bert the Turtle (1952)
1945 to 1965 is probably the most fun, but also most difficult, period to teach. There's so much going on. We have Youtube videos galore (I absolutely love the trailer for Rebel Without a Cause). We have heroic stories and dramatic anxieties. There's the emergence of the modern Civil Rights movement and our students have not only heard of, but actually heard speak Martin Luther King Jr. They know somehow that Malcolm X was tough, and that white segregationists were somehow a group of odd, awful southerners. And talk about documentaries, Eyes on the Prize is a gold mine. It's probably the only documentary that doesn't put me to sleep (well, I like Ken Burns's The Civil War too, although it gets pretty formulaic). There's the "duck and cover" fears of nuclear devastation and the video of Bert the Turtle teaching children to "duck and cover" is unbeatable as a discussion starter. (I've had classes literally duck and cover, and ask them if they magically feel safer; they don't. We all just feel awkward).
Then there's the massive economic and population growth. Americans got very good at growth. We made suburbs, televisions, automobiles, and babies. We moved to the West, especially California, to build more and more. By 1960, California had as many Electoral College votes as Pennsylvania and was creeping up on New York. And as we bought, sold, and made in bigger and bigger fashion, we crafted even bigger ways to destroy everything. Hydrogen bombs were atomic bombs what the B2 bomber was to the biplane. It's an exaggeration to say that they were 1000 times more destructive, but the point is that they took destructive potential to new heights.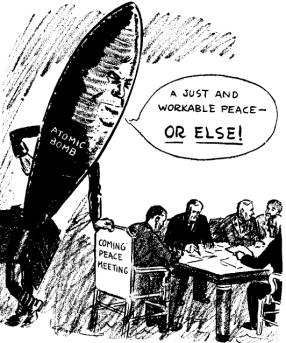 1945 cartoon found at
http://www.johndclare.net/cold_war2.htm
And of course, the Cold War looms everywhere. Whether it was militarization in the form of NATO and Korea or homespun anxiety of the McCarthy-esque type, the battle between "God-fearing, free-market capitalism" and "atheistic Communism" touched everything in its path.
But how can we pull it all together? How do we make sense of the moment before the Civil Rights Act, immigration reform, Vietnam, and stagflation reconfigured every element of the United States from the late 1960s into the 1970s?
I'm trying two main themes, which I'll elaborate on later in the week (and report back what my students know and don't know from the years): 1) the rights revolution, or how so many groups and individuals pushed for rights that even upper-middle-class white men turned to the language of oppression to defend either their long hair or their business interests; and 2) the burdens of power, or how economic and political power created an American responsibility and dependency that we carry to this day.